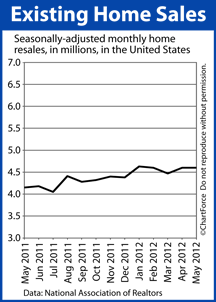 Home resales climbed 2% last month as the housing market continues its measured, steady recovery.
According to the National Association of REALTORS®, Existing Home Sales rose to 4.47 million units in July on a seasonally-adjusted, annualized basis.
An "existing home" is a home that cannot be classified as new construction and, despite a reduction in the national homes inventory, the number of previously-occupied homes sold in July was higher by 10% as compared to one year ago.
The Existing Home Sales also reported the folliowing :
First-time buyers accounted for 34% of all purchasers, down from 34% in June
Real estate investors accounted for 16% of all purchasers, down from 19% in June
Cash buyers accounted for 27% of all purchasers, down from 29% in June
In addition, the real estate trafde group reports that distressed sales accounted for a smaller percentage of the overall home resale market in July. Just 24% of home resales were for homes in various forms of foreclosure or short sale.
This is down one percent from June, and five percent from July 2011.
It also marks the smallest percentage of homes sold in "distressed" status since the trade group began to track such data 4 years ago.
Lastly, nationwide, the supply of homes for sale dropped to 6.5 months. At the current pace of sales, therefore, the complete U.S. home resale inventory would be sold by the end of Q1 2013.
There are now 2.40 million homes for sale — a 24% reduction from July 2011.
For today's Chicago home buyers, the July Existing Home Sales report reinforces the notion that housing is in recovery and what the nation's home builders have been saying since late-2011 — the next six months for housing will likely be strong. Growth may not be linear, but it figures to be consistent.
With home inventory low and mortgage rates the same, the home resale market looks ripe for good deals.