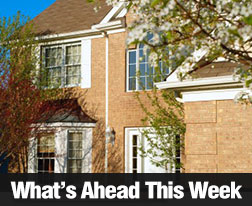 Last week's housing related news was minimal, but a Federal Reserve survey of senior loan officers revealed that although credit standards for commercial and industrial loans as well as credit cards are easing, current mortgage credit standards are more stringent than in 2005. This could be a contributing factor to slowing housing market gains while other sectors of the economy are recovering at a faster pace.
Qualified Mortgage Rules Impact Non-Conforming Mortgages
The Senior Loan Officers survey also noted that qualified mortgage rules have slowed approval of prime jumbo mortgages and non-traditional home loans. This suggests that applicants falling outside of stringent qualified mortgage rules can expect challenges when buying or refinancing their homes.
In other housing news, Freddie Mac's Primary Mortgage Market Survey reported that last week's mortgage rates were mixed. Mortgage rates for a 30-year fixed rate mortgage averaged 4.14 percent with discount points of 0.70 percent against last week's reading of 4.12 percent with discount points of 0.60 percent. 15-year mortgage rates averaged 3.27 percent with discount points of 0.60 percent. This was an increase of four basis points, although discount points fell from 0.70 percent to 0.60 percent. The average rate for a 5/1 adjustable rate mortgage was 2.98 percent, a drop of two basis points, with discount points unchanged at 0.50 percent.
Fewer Jobless Claims, Service-Related Business Growth Exceeds Expectations
The weekly Jobless Claims report brought a lower than expected reading of 289,000 new claims as compared to predictions of 305,000 new jobless claims. In other economic news, the Institute for Service Management (ISM) reported that its non-manufacturing index rose from June's reading of 56.00 percent to 58.70 percent in July. Analysts had forecasted July's reading at 56.50 percent. July's reading represented the highest growth rate for service-related businesses since 2005.
According to the Department of Commerce, June factory orders rose by 1.10 percent over May's reading of -0.60 percent against an expected reading of 0.60 percent. As business expands and factory orders increase, it's likely that jobs and hiring will also grow. Steady employment is a compelling factor for most home buyers and positive reports in labor and industrial sectors could boost housing markets as more buyers increase demand for homes.
What's Ahead
Next week's economic reports include retail sales, retail sales excluding automotive, industrial production and the weekly reports on mortgage rates and new jobless claims. While there isn't much housing news expected next week, readings in other economic sectors can suggest potential trends in housing markets