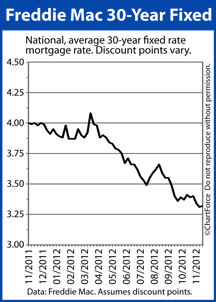 Low mortgage rates are pumping up home affordability.
Average 30-year fixed-rate mortgage rates made a new all-time low in November, continuing this year Refinance Boom and giving fuel to the budding housing market recovery.
At month-end, Freddie Mac's survey of 125 banks nationwide put the benchmark product's rate at 3.32% for borrowers willing to pay 0.8 discount points. This is just 0.01 percentage point above the record-low rate establishing prior to Thanksgiving.
The 15-year fixed mortgage is similarly low, posting 2.64 percent nationwide, on average. This, too, is only slightly higher the all-time low set the week prior.
Falling mortgage rates have helped to offset rising home prices in many U.S. cities.
Steady job creation and rising consumer confidence has swelled the pool of home buyers nationwide, causing home inventories to shrink and home prices to rise. The improving economy has also led to rising rents and now, within many housing markets, it's less costly to buy and own a home than to rent a comparable one.
A $1,000 mortgage payment affords a $225,000 mortgage payment in Chicago.
Last week, the economy was shown to be improving.
The Commerce Department showed that the Gross Domestic Product increased at a 2.7% annual rate in Q3 2012
The Labor Department showed first-time unemployment filings dropping by 23,000 claims
The Pending Home Sales Index jumped to its highest point since April 2010
The Existing Home Sales report showed home sales up 2.1%
The Case-Shiller Index showed home values making annual gains
In addition, Federal Reserve Ben Bernanke said that the central bank will take action to speed economic growth, should the U.S. economy start to side-step.
This week, there is little on the U.S. economic calendar, save for Friday's Non-Farm Payrolls report. Wall Street is expecting to see 80,000 net new jobs created in November, and a rise in the national Unemployment Rate to 8.0%.
If the report's actual results are stronger-than-expected, mortgage rates will likely climb from their all-time lows. If the report comes back weak, rates should stay unchanged.